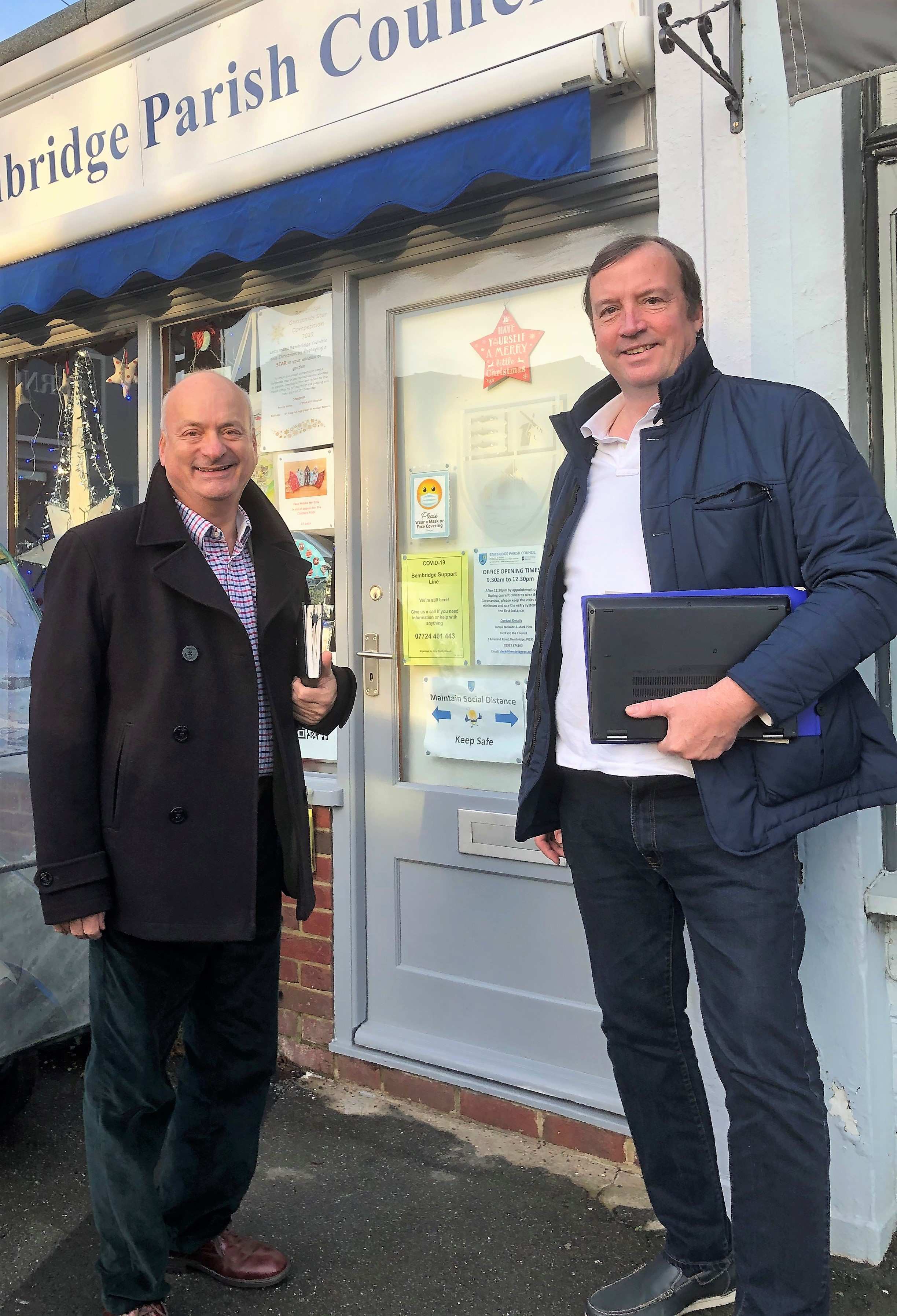 Cllr Ian Ward and Cllr Michael Murwill
A Happy New Year to you all. As we enter 2021, I hope that you all continue to keep safe and well.
COVID-19
Is it very disappointing that the Island has now been moved from Tier 1 to Tier 4 and this emphasises the vital importance of the restrictions.
As of 5th January 2021, the Government has announced another national lockdown and, whilst it is clear that protecting the population essential, the Government has effectively changed direction within days of its last decision. The latest guidance and restrictions for residents and businesses can be found at https://www.gov.uk/guidance/national-lockdown-stay-at-home and at https://www.gov.uk/coronavirus
If you need help, please telephone the Isle of Wight Council (IWC) Coronavirus helpline 01983 823 600 or, for the latest advice, please visit the IWC Coronavirus website: https://keeptheislandsafe.org/ where residents can subscribe to receive email updates from the IWC.
Included on this IWC website are informative sections including:
 Support for islanders
 Isle of Wight COVID-19 helpline
 Business support (this includes Tier 3 business grants)
 Community hubs
 Support with food
 Preventing COVID-19
 Self-isolation
 Local restriction tier system
 Guidance for people at higher risk
 NHS COVID-19 app
 COVID-19 statistics
 Test and trace
Brexit
With the agreement of a trade deal between the UK and the EU, a more stable environment is now expected for all concerned. Brexit is due to take place on 1st January 2021 and will bring new rules for businesses and citizens. If you have any questions, you can view information at www.gov.uk/transition
This Government webpage has an easy to use checker, which provides a personalised list of actions for you, relating to your business, family, and personal circumstances. It also enables you to set yourself up for email updates with the latest news.
Consultations
Two important IWC consultations for residents have deadlines looming this month: all residents are invited to provide comments.
8th January – Annual recycling and waste survey
https://www.surveymonkey.co.uk/r/RecyclingWasteSatisfactionSurvey2020
21st January – Budget consultation 2021/22
https://www.iow.gov.uk/Council/OtherServices/Financial-Management/Budget-Consultation
Status of roads
Moving into this new year I will continue to deal with resident queries on a range of subjects. In order to review and address outstanding Island Roads issues within the village, I recently invited the cabinet member for transport, Cllr. Ian Ward (pictured) and Bembridge parish councillor Grant Stillman to a meeting which assisted in clarifying outstanding matters and priorities for the village.
Meetings
To ensure safety, meetings continue to be held virtually via Microsoft Teams.
Agendas for forthcoming meetings will be available for public viewing 5 working days before the meeting.
January 2021 IWC dates for your diary:
6th January 14:00 Isle of Wight Fire Authority Fire Fighters Pension Board
7th January 17:00 Policy and Scrutiny Committee for Neighbourhoods and Regeneration
12th January 17:00 Corporate Scrutiny Committee
14th January 12:00 Local Outbreak Engagement Board
14th January 17:00 Cabinet
18th January 16:00 Licensing Committee
20th January 17:00 Full Council
26th January 16:00 Planning Committee
27th January 10:30 Isle of Wight Pension Fund Committee
28th January 09:30 Health and Wellbeing Board
28th January 10:00 Appeals Sub Committee
28th January 17:30 Environment and Sustainability Forum
I am always available to assist residents so please do not hesitate to contact me. Keep safe and I hope that 2021 is a better year for all of us.
Email: Michael.murwill@iow.gov.uk
Facebook: Councillor Michael Murwill
Twitter: @cllrmurwill
Tel: 07754 463 040