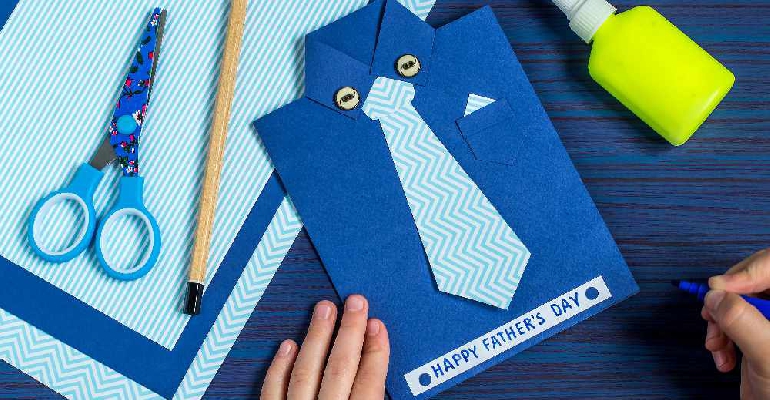 With Father's Day fast approaching (Sunday June 21st), why not put your creative hats on and make a home-made card for the father figure in your life. This easy to follow guide can be adapted to use colours and patterns of your choice.
You'll need:
An A4 piece of coloured card
A piece of A5 card in a different colour
Double-sided sticky tape or glue
Buttons

Instructions:
Fold your piece of card in half lengthways. Open back up.
On the right hand side of the card, draw a line two centimetres down from the top of the shorter side and cut along the line. Discard the thin strip of card that comes off.
Hold the closed card so it's in a portrait position, with the opening facing to your right. Now cut a 2.5cm horizontal slit on either side of the card, 2cm in from the top.
Use these flaps to fold and create the collar.
Hold your second piece of card in a portrait position, fold the bottom corners in until they meet, to create a point.
Now turn the paper over and fold the sides in until they meet. Now fold the sides in a second time, and tape down.
Flip over and fold the top of your tie down, twice, to create the knot at the top.
Now tape/glue the tie in position on your shirt.
Glue buttons in place.
We'd love to see your designs! Why not upload them to Facebook, Twitter and Instagram and tag us in your pictures.